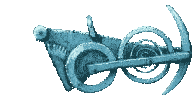 Sisyphos - calendarium

length
at the beginning of the month 169 cm
at the end of the month 186 to190 cm, according to the length of the month
height
65 cm
depth
20 cm
The Sisyphus is driven by daily turning the winder placed on his "body". For one whole month he climbs up day by day along the gear rack to the year wheel, which, at the end of the month, inexorably pushes him back . Blustering, he rolls back down to the first day of the next month. On his "body" the day of the month (bigger disc), the day of the week (smaller disc) and the lunar phase (sphere) are indicated. The year disc shows the season, the month and the zodiac..